HRIS Security Approvers Portal
Welcome to the HRIS Security Approvers Portal. This page is for Agency HRIS Security Approvers and Agency Security Authority Delegates.
HRIS security is the joint responsibility of the agency, Department of Administration, Power Users, and Managers. Security is a critical component of all automated or manual Financial and Human Resource systems. The HRIS Security Administration Policy has been updated to reflect the changes in our approach to security. All persons involved in managing and maintaining the security and integrity of employee confidential data should review the HRIS Security Policy.
List of Agency HRIS Security Oversight Contacts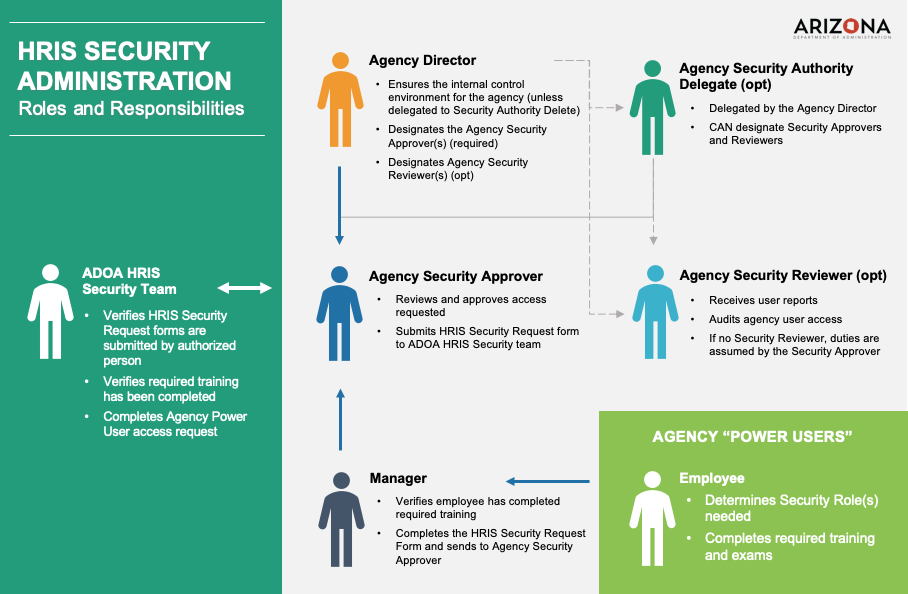 HRIS SECURITY APPROVER TOOLKIT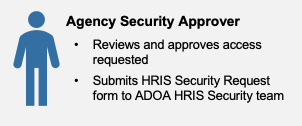 As an Agency Security Approver, you have assumed the responsibilities of assigning HRIS Power User access to employees of your agency. The following resources are for the Agency HRIS Security Approver and HRIS Security Authority Delegates to successfully navigate this change period for HRIS Security. Resources are listed in recommended order for viewing.
HRIS Security Policy
The HRIS Security Policy details the roles and responsibilities of everyone involved in managing and maintaining the security and integrity of employee data.
Summary View HRIS Security Role Descriptions and Training Requirements
Recommend printing on Legal sized paper
Summary of the HRIS Power User Roles and brief descriptions of functions those roles can perform in the HRIS system.
AZPerforms & Remote Work Agreement Role Description & Training Requirements
HRIS Security Role Conflict Matrix
Upon receipt of an HRIS Security Request form, responsible for reviewing all existing access for the employee for whom the request is being submitted to ensure compliance with separation of duties. The Security Role Conflict Matrix defines roles that cannot be assigned simultaneously to one employee.
HRIS Agency Security Request Form
The manager of the HRIS Power User requesting access must complete the Agency Security Request form and submit to the Agency Security Approver. The Agency Security Approver will submit the form to the HRIS Security Team via ServiceNow or via email [email protected] for processing. Please read the Instructions Tab on the Agency Security Request Form for detailed information about this form.
Active Process Levels Listing for reference when completing the HRIS Security Request form.
For more information about each role visit the HRIS User Access - Security Roles and Training page